Physiology In The Park

Local Health and Wellness Expo

Information regarding the 2013 Physiology In The Park expo is coming up soon,

meantime check out Physiology In The Park 2012 video !

Thursday, August 16, 2012 from 5:30-8:00 at Rotary Park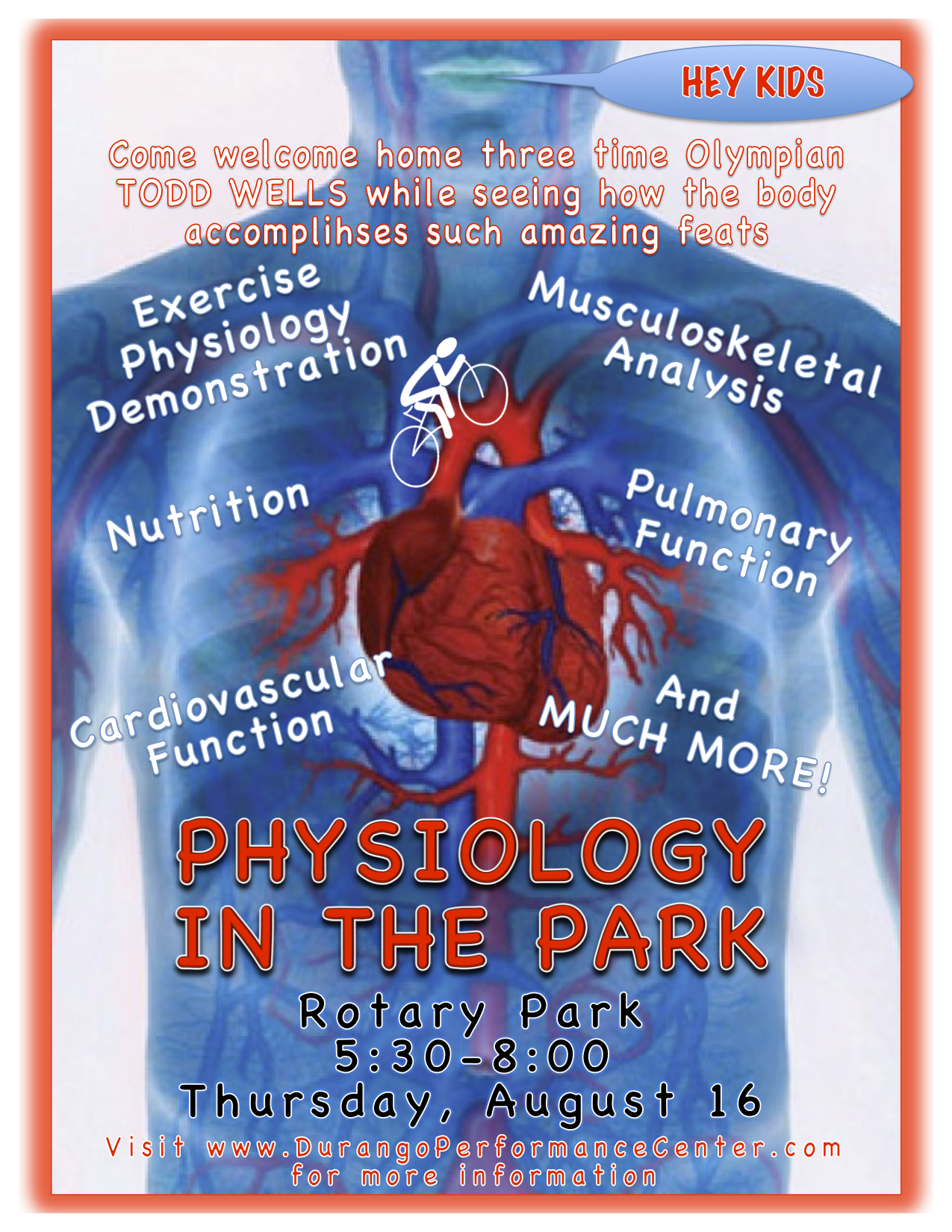 Event Summary:

Come welcome three time Olympian Todd Wells home and kick off the US Pro Cycling Challenge with Durango Performance Center. We will host a gathering in Rotary Park on Thursday… Bring your Blanket, Bring your dinner and see the Cycling Body in action. Explore demonstrations and videos on Heart Function, Nerve muscle coordination, Lung Function, and watch a live experiment on the physiology of the cycling body in action. The showcase presentation will begin at 7:00. A professional athlete will take a VO2 max test on state of the art physiological monitors while Dr. Bruce Andrea explains how her body responds to increased cycling challenges... Knowledge is power and knowing how your body gets it power advances the joy of cycling.

Activities:

7:00 Exercise Physiology Demonstration- Watch and learn as a professional athlete performs a VO2 Max test. We will be monitoring her workload, heart rhythm, oxygen consumption, and lactate acid production with all the information projected onto a screen so you can watch the numbers as Dr. Bruce Andrea explains what they mean.

5:30-7:00 Lung Volume Demonstration- Ever wonder how your lungs compare with some top professional athletes? We will be measuring lung volume and putting that same volume of air into a balloon for you to compare with your friends as well as the pros.

5:30-8:00 Maximize Your Power- Ever wonder how much power your legs can put out in an all out sprint? Take our two-minute cycling Wingate test to find out.

5:30-8:00 Musculoskeletal Evaluation- A Physical Therapist from Durango Sports Club will be on hand for evaluations. Learn how your muscles and bones work in unison to maximize performance.

5:30-8:00 Heat Model- Ever wonder what how the heart manages to pump so much blood to throughout the body. We will have a visual model of the heart in action.

5:30-8:00 Nutrition- Food is Fuel! Come talk to a Myra Miller, RD, to learn how to maximize performance by fueling correctly.

5:30-8:00 Muscle Fiber Type- What is your predominant muscle type? What is the difference between fast twitch and slow twitch muscle? Come find out by doing a vertical jump test.

5:30-8:00 Brain Function, Helmet Awareness- Mercy Gray Matters, Bob Liscomb will be on hand to explain the Brain and the importance of protecting in.

Special Thanks to Performance Cardiology, Durango Sports Club, and Durango & Silverton Narrow Gage Railroad

Check back for updates!